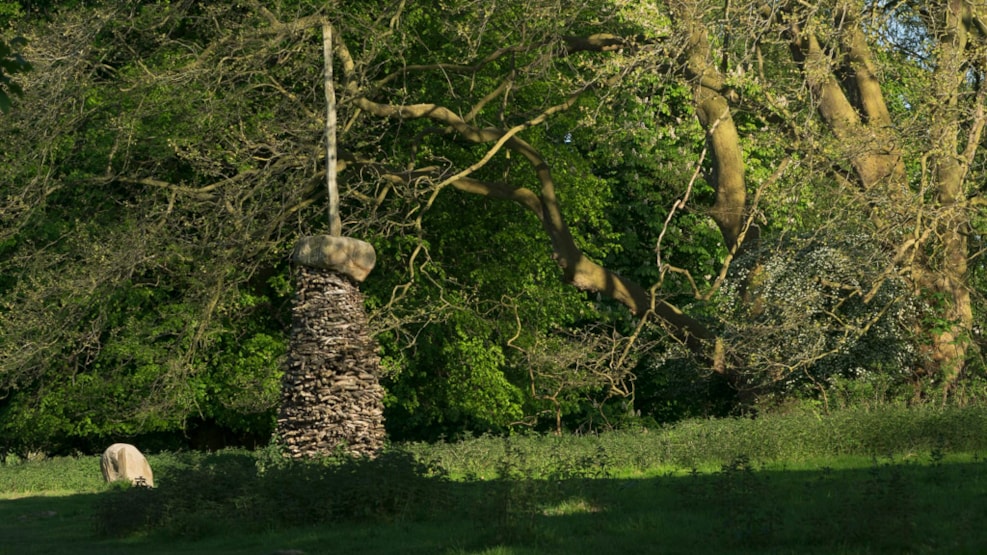 TICKON: Tranekær-varder (Tranekær-cairns), Chris Booth
'Tranekær-varder' (the Tranekær Cairn) shows how land art retains its aesthetic integrity, even through the process of decay
Tranekær-varder (Tranekær-cairns)
Artist: Chris Booth
Installed: 1998
N.B. An admission fee (25kr) is payable to enter the Castle Park
The aesthetics of decay
The two cairns were built around long oak poles driven into the ground. In New Zealand it is traditional to build haystacks around such stakes and the artist Chris Booth who is from New Zealand, used oak stakes as the centre of his stacks of branches that are pressed together by a boulder, which has had a hole drilled though its centre.
The one cairn that still exists consists of small branches which are slowly decaying and thus bringing the stone down towards the ground. The other cairn, of which the carved stone is the only part still remaining, decayed more quickly as it only consisted of thin vertical poles.
Chris Booth's works are always site specific and are often created with stone. His artworks therefor always make a very powerful impression. During the time he spent on Langeland he was very inspired by the island's prehistoric past.
Chris Booth
Chris Booth, born 1949 in New Zealand. He studied at Canterbury University's School of Fine Arts in New Zealand. He has created site specific artworks in countries such as Australia, USA, England, Ireland and Italy.
Read more
Read more about TICKON here.
Geopark Det Sydfynske Øhav © 2023