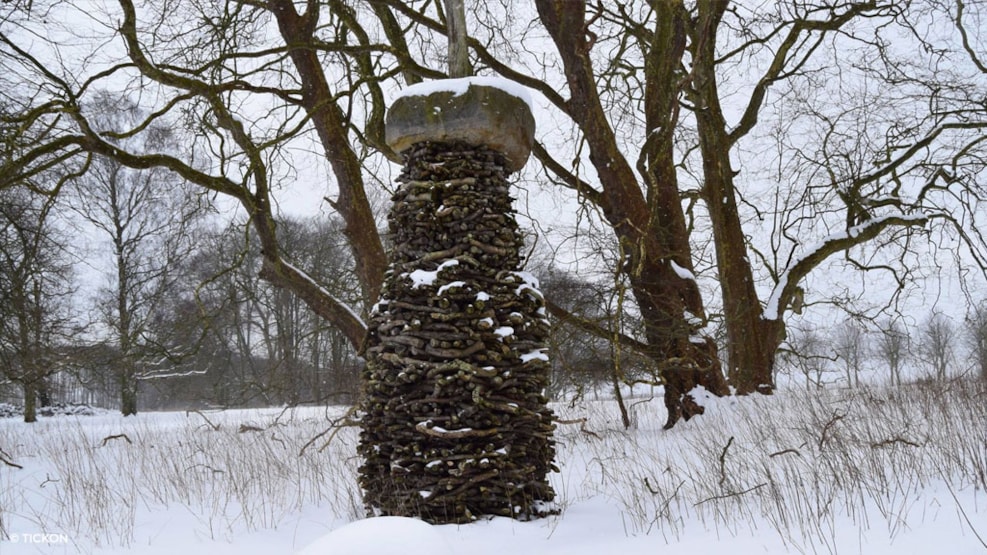 TICKON - Tranekær International Centre for Art and Nature
Enjoy a walk in Tranekær Castle's beautiful park and experience the Land Art - a synthesis of art and nature- created by a host of international artists.
Both the park and the castle are owned by the Ahlefeldt-Laurvig family, whom in 1993 gave over the decoration of the park to TICKON - Tranekær International Centre for Art and Nature. Since then over 20 first class artists, both from Denmark and abroad have created artworks that can be found in the park.
Castle Park with Site-Specific Artworks
In the castle's park you can enjoy what is known as Site-Specific Art - an art-form that implies that these, often gigantic, works of art are built on site, from local natural materials such as wood, earth and stone. In this way artworks are created that seem, in some miraculous way, to be part of nature. At the same time these works are intended to be subject to the forces of decay, so that sometime in the future, they will disappear back into the earth. In other words these works not only express great beauty, but they are also an artistic way of reflecting the cycle of life.
For this reason only 14 of the original artworks can still be seen today. The whole philosophy behind this art-form is that the works should not be maintained or repaired. Instead new artworks are continually being added to the park, with the help of finance received from a number of different funds.
Tranekær Castle Park - a fantastic place to visit all year round.
When you visit TICKON there is also plenty of space to explore nature. While all the artworks are gathered in the area close to the lake, the park itself is spread over a total area of approx. 83ha. All artworks are shown on the brochure and map which are available at the entrance.
Explore the castle park, here artworks can suddenly appear in its midst of the luxuriant nature. Sometimes you may even find yourself wondering; what is natural -what is man-made?
The park is open all year round from sunrise to sunset.
Geopark Det Sydfynske Øhav © 2023