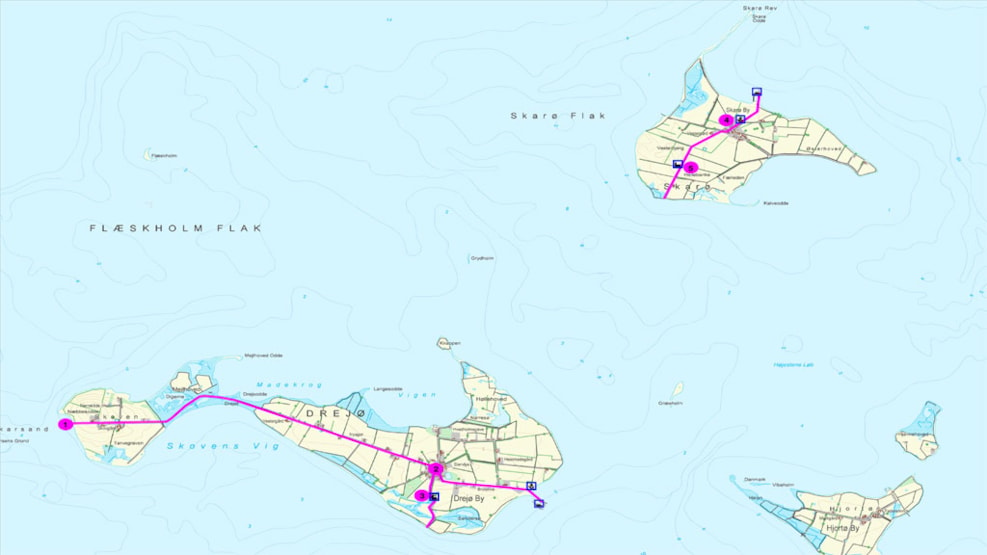 Standing tall in the floods: the small islands
At times, life on two of the small islands in the archipelago, Skarø and Drejø, has been tough with three-metre storm surge flooding in 1872, ice winters and high infant mortality. But on the small islands in the middle of the archipelago people stood tall and shouldered all hardship – and they still do. The islands share the same ferryboat that departs from Svendborg several times every day. If you are an early bird, you can make a one-day trip but alternatively you may bring a tent and enjoy island life. For more info, see 'practical information'.


The major sight on Drejø is actually something that is no more, i.e. a village that was burnt down on a midsummer's night in 1942. The disaster which everyone fears who lives in a half-timbered house became real. The fi re devoured 11 farms and seven houses, and 100 people were made homeless. Luckily, nobody died, and with a joint effort the village was rebuilt. At the Gl. Elmegård museum you can enjoy a coffee and a guided tour in the rooms and stables of the old farm while listening to the tale of the fi re and the enterprising local islanders.


For many years the Drejø islanders had to travel by sea for christenings, weddings, funerals or simply for going to church. They would sail the long way to Ærø. It could be a dangerous crossing especially in winter as the islanders sailed their small boats or dinghies. In 1535, three years after two families drowned on their way to christenings in Ærøskøbing, the islanders were allowed to build their own church by royal consent.


Skarø means 'outflow in the sea at the edge of the channel'. Over time, the small island with its 8.4 km coastline has been inhabited on and off. At all times wind and weather have been factors to be reckoned with and most people have been occupied in farming or fishing. Today other occupations have arrived, such as shopkeeper, ice cream maker, and festival organizer. The popular Skarø festival in July not only unites the islanders but also attracts many music lovers.


Until 1990 when the Skarø islanders got their own church, they had to sail to Drejø to receive their church blessings. The dead, too, had to be sailed across to Drejø to find their last resting place. But the islanders took the rough with the smooth. Love was in sea air. The crossings – no matter how utilitarian – led to many a romance between the islanders, and between the islands.
Geopark Det Sydfynske Øhav © 2023