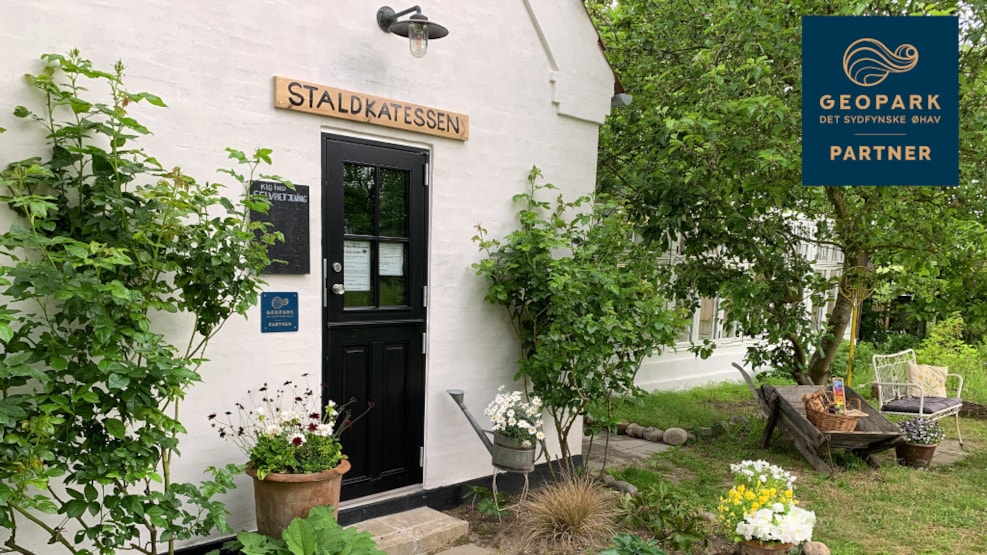 Staldkatessen - the taste of South Funen
Enjoy a charming travel break with excellent coffee and South Funen specialties.
We have a barn full of delicacies awaiting your holiday visit. Join us for a freshly brewed cup ofhigh-quality coffee consumed among fruit trees, wild pastures, and summer flowers.
Staldkatessen (Stald means barn, katessen short for delicacies) is located along the route from Faaborg to Dyreborg, The shop offers first-class local specialties under one roof. The tastefuldecor is in line with the farm's spirit of the time - with a beautiful modern twist.
On our shelves you will find organic ice cream, soft drinks, locally brewed beer, handmade spirits, chocolate, cream buns, honey, sweets, snacks, mustard and much more. All are made from local raw materials, handcrafted by enthusiasts with a passion for good products.
In addition, you will find a roadside stall where we sell local vegetables and fruit.
Staldkatessen is cyclist friendly, with toilets, a bicycle pump, and fresh water to fill your water bottle.
The store represents the following South Funen producers - with more coming regularly:
Økomølleriet, Soze coffee, Skarø Ice Cream, Funen Chocolate, Mosgaard Whiskey, KildegaardJuice, Aqua Vitae, Sinding Snaps, Agger wine, Det Søde Liv, Bryggeriet Æ, Svendborgsund Bryghus, Ærli Cream Buns, Grands Wine, MayMays Munchies. Ørbæk Brewery, Natural fresh soda and juice as well as Raunsborg natural beauty products.
Geopark Det Sydfynske Øhav © 2023