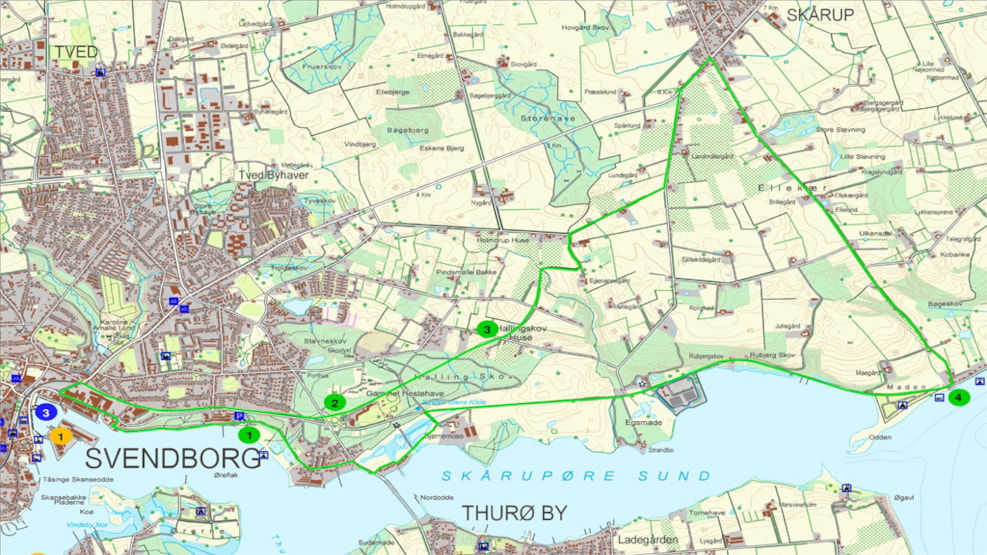 The South Funen fruit trail
On this route you will follow the apples from South Funen and into the big wide world. While pedaling away you can look forward to learning more about the myth of Funen being the orchard of Denmark. The myth has it that you only need to put a stick into the ground on Funen and an apple tree will grow up. The myth is still alive: the area is still teeming with apple trees. The locals willingly sell their good fruits in the many road-side stalls that you will pass. Previously the fruit was transported on the old railway line where there is now a bicycle track.


At Gl. Hestehauge the Weber family established the first fruit plantation in Denmark. Their apple orchards were popular then and so, today, are the great Italienate villas along the route which the Webers put their fingerprint on. Enjoying an apple or an ice cream on the beach at Christiansminde is good for dreaming. While eating, it is good to know that the Weber family also were the masterminds behind this trail along the Sound – a beautiful scenery for a breather.


When biking along the former railway line from Svendborg to Nyborg you can be amused at the fact that, when inaugurated, this 37.7 km line held the Danish record for being the most expensive of its kind relative to its length. But on the other hand, next to the North Zealand coastal line, it was the railway with the highest number of inhabitants per mile. From 1897 until 1964, the trains departed from the south of Funen and supplied fruit to the whole world. So a lot of country fruit made it to the capital on the morning train.


Today, a lot of fruit is imported from abroad but when the orchards at Gl. Hestehauge had been established in 1880, the local fruit growers became so skilful at producing sweet and tasty fruit that it was absolutely unnecessary to buy elsewhere. The fruit myth is still alive and you can become part of it when cycling along the luxuriant apple orchards and vineyards.


For several centuries the fruit left the south of Funen mainly by sea. It is a tradition which is still being upheld through the 'apple race' on 'pear traders'. Pear traders are classic sailing vessels which until the 1940s would sail fruit to Copenhagen and other markets. Every October the pear traders are still filled with a variety of fresh produce and the vintage fleet take the starter's gun for the apple race from Langeland and Tåsinge towards the finishing line in Svendborg.


Geopark Det Sydfynske Øhav © 2023