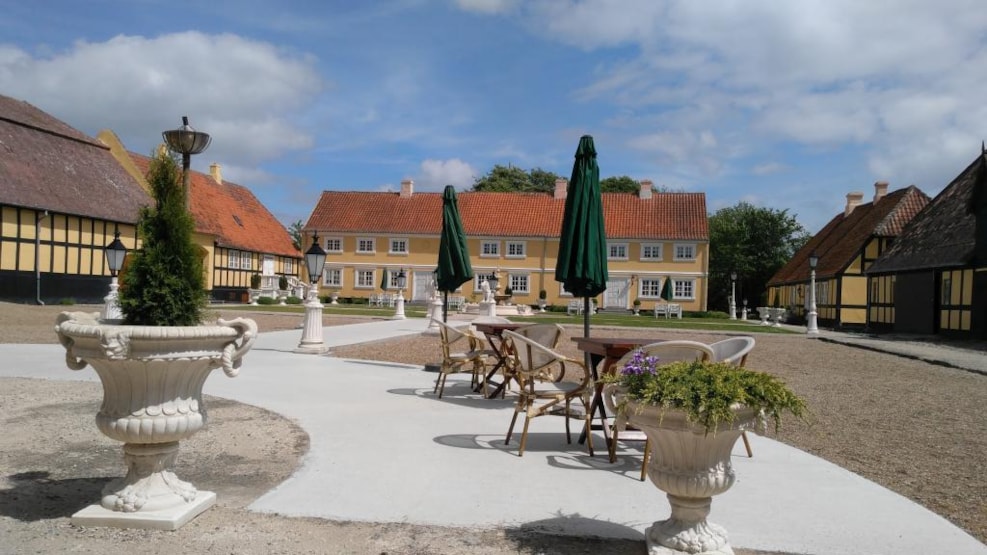 Skrøbelev Gods
Take a couple of days and go to Skrøbelev Gods with the love of your life or a couple of good friends, you can expect a total experience. It includes both delicious food, top-class service and an atmosphere of history and luxury
LUXURY DAYS IN A ELEGANT ENVIRONMENT.
Here it is always the guest that is in focus, and in the hallroom you can have a delicious two to five-course menu in the evening. The tables are covered with candles and beautiful flowers, the tables stamds far apart so you are ensured an intimate dinner. Do you want to go for a walk in the park or the love trail over the bridge at the old moat between the courts, just call the waiter and inform about it and if you prefer to take the dessert in the soft chesterfield sofas by the fireplace than at your place table, the answer is always "no problem."

IMPLEMENTED HISTORICAL STYLE
In the newly restored double rooms and suites, the historical style - as in the rest of the property - is preserved. The suites are part of what has made Skrøbelev God's famous, and helps to attract people from all over Denmark.

Skrøbelev Gods is well-known for the amazing suites with stucco ceilings that go throughout the room and beautiful marble bathrooms in high quality with Jacuzzi. Alternatively, you can choose our delicious double rooms with massive oak floors and fireplace. The style is old and romantic, it fits the environment - here is no modern minimalism. At the same time, guests have all modern facilities available.

Keeping the old, beautiful and solid in honor of Skrøbelev God's propagation literally completely into the garden where Denmark's oldest tree with chestsnuts stands. It was planted around 1669 when the estate were built, today it reminds us all that we carry the past with us.

WINNING IN THE FUNNY WAY
Even though you love the odl history at Skrøbelev, You can have at modern experience.
You can enjoy many of them, not just on the property but also in the sourronding area. You live close to the town of Rudkøbing, just as you are not far from Valdemar Castle or the wild horses. The amazing scenery of the area invites you to both beach walks, cycling and long walks where you only hear the birds twitter from the trees.
In other words, there are unpretentious pleasures, although in a magnificent place, and the unpretentious characterizes also the special wine tastings that are held at Skrøbelev Gods: The wine tastings are special in their own way. For example, the wine expert does not give a lecture, he talks with the guests to find out which wines they drink and like.

And the prices of the bottles are reasonable, it's the type of wine you want to go out and buy afterwards. When you book a romantic overnight or a weekend at Skrøbelev Gods, it is a good idea to book in advance, there is a big demand for a stay in this beautiful time pocket.
Geopark Det Sydfynske Øhav © 2023