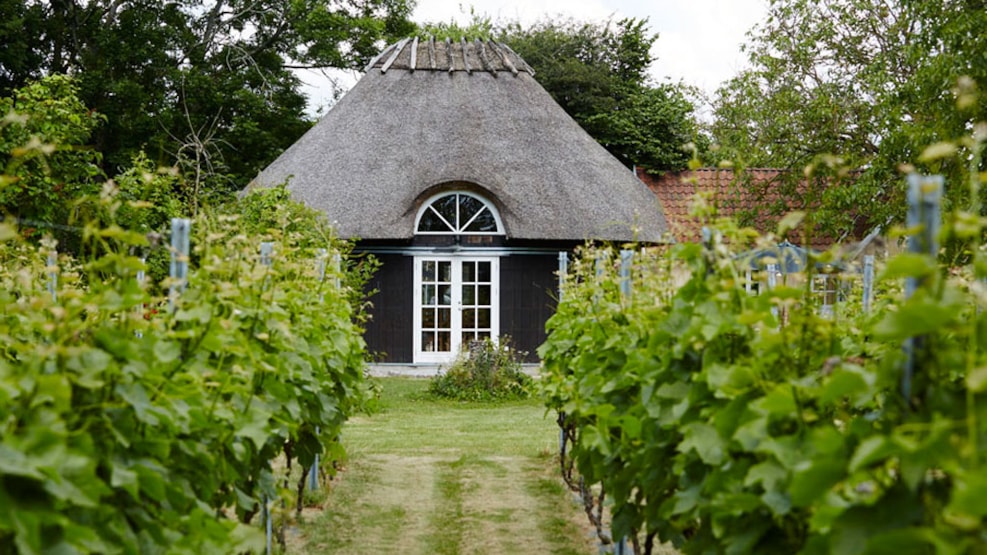 Skårupøre vingaard
WELCOME TO AN ADVENTURE
When you enter the courtyard at Skaarupøre Vingaard you enter different world. The old farmhouse to one side and the huge wine barrels transformed into shop and café are situated on the other.
Bente and Carsten live in the farmhouse and they welcome you for a tour of the vineyard and a wine tasting at the long table in the wine barrel.
Bente and Carsten talk enthusiastically about how they started the vineyard in 2002 and what it is like to be biodynamic and organic wine farmers in Denmark today. It's an exciting adventure!
Farm shop – open all year
Wednesday and Sunday from 13.00 - 17.00
June, July and August also Saturday from 13.00 - 17.00
Outside of business hours you are very welcome to look us up or call us - we are home almost all the time.
TOUR & TASTING - ALL YEAR
By arrangement a tour is offered with tasting of three wines served with home baked bread made with flour from Økomølleriet Kragegaarden.
Duration 1½ - 2 hours
Price 160 kr. per person. Six persons minimum.
If you want to add a regular meal we can offer:
Lunch size dish with cheeses from Gundestrup Dairy
Plate of products from small local Funen based producers - a full meal
CAFÉ - JUNE, JULY AND AUGUST
In the winery café you can enjoy a quiet and peaceful moment or enjoy a glass of wine, a local beer, the winery's snacks or a cup of coffee with sweets.
You are welcome to eat your own packed lunch if you buy drinks in the café.
The cafe is open
Saturday and Sunday from 13.00 - 17.00
If there are changes in opening hours for the farm shop and the café they will be updated on our website.
PITSTOP FOR CYCLISTS - BIKE FRIENDS
At Skaarupøre Vingaard you can pump up your bike tires, fill your water bottle or enjoy the winery's catering in the Café.
    There are also toilet facilities and a bike station.
Geopark Det Sydfynske Øhav © 2023