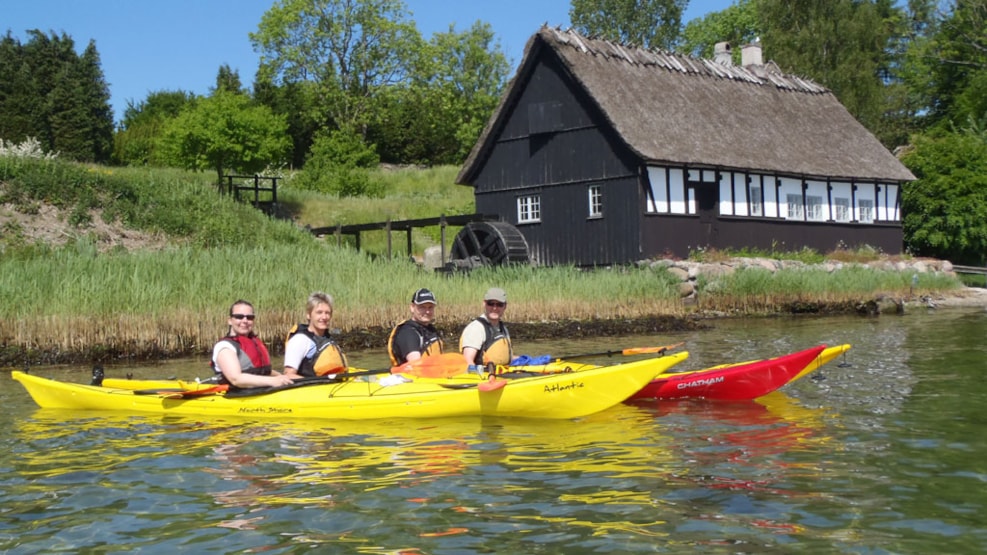 Sea Kayak rental - Nicus Nature
Bring family, friends, girl- or boyfriend on a kayak adventure. See South Funen, Svendborg and the Archipelago from the seaside.

Beginners
Stay safely close to the shore. From the starting point in Vindebyøre you can paddle to the bridge between Svendborg and island of Tåsinge, or you can paddle to Valdemars Castle. Don´t cross the navigation channel.

If you tried kayaking before
we recommend daytrips

Experienced
If you are confident with rescue techniques and getting safe back up in the kayak in case of capsizing we highly recommend island hopping in the Archipelago


Prices:

Single kayak, 4 hours, 200 DKK
Single kayak, 1 day, 350 DKK
Double kayak, 4 hours, 300 DKK
Double kayak, 1 day, 450 DKK
Wetsuit and wet shoes, 1 day, 50 DKK
Sit-on-top-kayak, 4 hours, 150 DKK
Sit-on-top-kayak, 1 day, 250                      
*Rent is including: Life jacket, paddle and spray skirt

Kayak lessons:
We can arrange private lessons or a course just for your group.

Conditions:
For the best service and for your safety:
- After use rinse all equipment and kayak with water.
- Return before 17:30 or according to agreement
- Don't cross the navigation channel
- BRING YOUR MOBILE, in case of notifying others where you are or in case of an emergency.
- It's your own responsibility to know navigation rules
- All safety procedures must be respected
- ALWAYS WEAR LIFE JACKET when kayaking
ALL PADDLING ACTIVITY IS ON YOUR OWN RESPONSABILITY
WE WISH YOU GREAT KAYAK ADVENTURES
Geopark Det Sydfynske Øhav © 2023