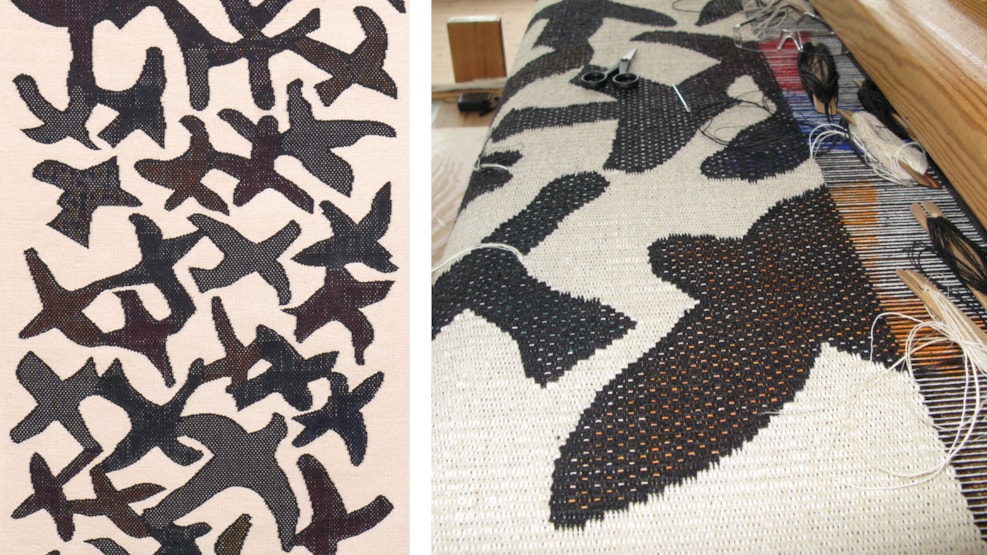 Jette Nevers - Weaver
Jette Nevers is one of Denmark's leading weavers and textile designers. She has been a significant figure in the world of Danish textiles
Exploring weaving techniques
Jette Nevers works as a pictorial weaver in its broadest sense. In her work she both challenges and explores the weaving technique itself. Her style is simple and graphic, but even though the textiles she produces may express themselves very differently, the unmistakable touch of Jette Nevers can always be felt.
Altar frontals, chancel carpets and chasubles
Jette Nevers is perhaps best know for her large decorative projects for Danish Churches: woven altar frontals (the fabric that covers an alter), large chancel carpets and chasubles all created using a combination of weaving, embroidery and print.
Biography
Jette Nevers (b. 1943) graduated from the Danish School of Design in 1965, since then she has been employed as a teacher at the Kolding School of Arts and Crafts and worked from her own studio on both her own projects and on designs for fabrics for large companies including Georg Jensen Damask and Kvadrat.
Jette Nevers creations and her many exhibitions both in Denmark and abroad, have had a clear influence on Danish textile art.
If you would like to see more…
You can visit Kunsttårn 4 (Art Tower no 4) near Korsebølle, where Jette Nevers work 'Fugle' (Birds) is exhibited. 
Geopark Det Sydfynske Øhav © 2023