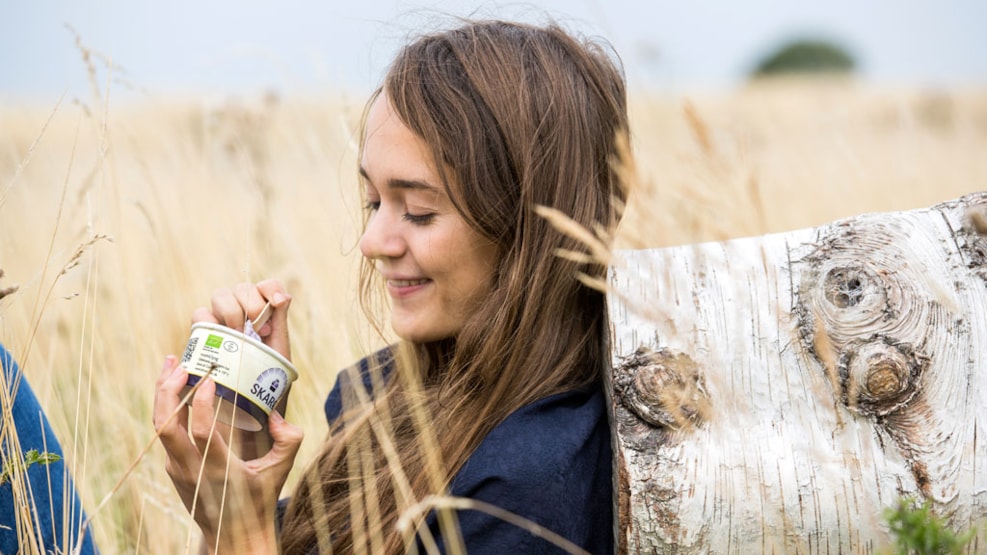 Icecream from Skarø
The small island in the South Funen Archipelago only has 27 inhabitants, and two of those, Britta Tarp and Martin Jørgensen, are the people behind the gourmet ice-cream company Is fra Skarø. If you wish to taste the ice-cream, simply stop by the charming café at the couple's farm, which is also where the ice-cream is produced. But Is fra Skarø is about more than great taste.
– The beautiful island setting is a constant source of new ideas. We quite quickly got the idea of sweetening the ice-cream with locally sourced sugar kelp and birch juice. These ingredients give the ice-cream a great texture and enable us to cut down on the sugar content, Martin says.
Since the humble beginnings, product development has picked up speed, making Is fra Skarø internationally known – not only for gourmet ice cream, but for the ice-creams developed for hospital patients.
– We make tasty protein ice-creams for cancer patients lacking in appetite. We have also developed an ice-cream especially for patients coming through major surgery who need intensive care with a focus on wound healing. For our latest project, we have studied what helps against morning sickness and developed an ice-cream for pregnant women suffering badly from this, Martin says.
The whole point is that while having good medical effects, the ice-cream still has to taste great.
Recognition of the specially developed ice-creams from Skarø is not limited to Danish hospitals. The ice-cream being served at the Danish National Aquarium in Copenhagen, at the Northside music festival in Aarhus and on Singapore Airlines flights have been developed on the tiny island in the South Funen Archipelago. In this strange and wonderful way, ice-cream from one of Denmark's smallest inhabited islands leaves its mark on the world.
The ice-cream café on Skarø is where new ice-cream flavours are tested. Visit from 1 May to 1 October to get a taste.
Geopark Det Sydfynske Øhav © 2023