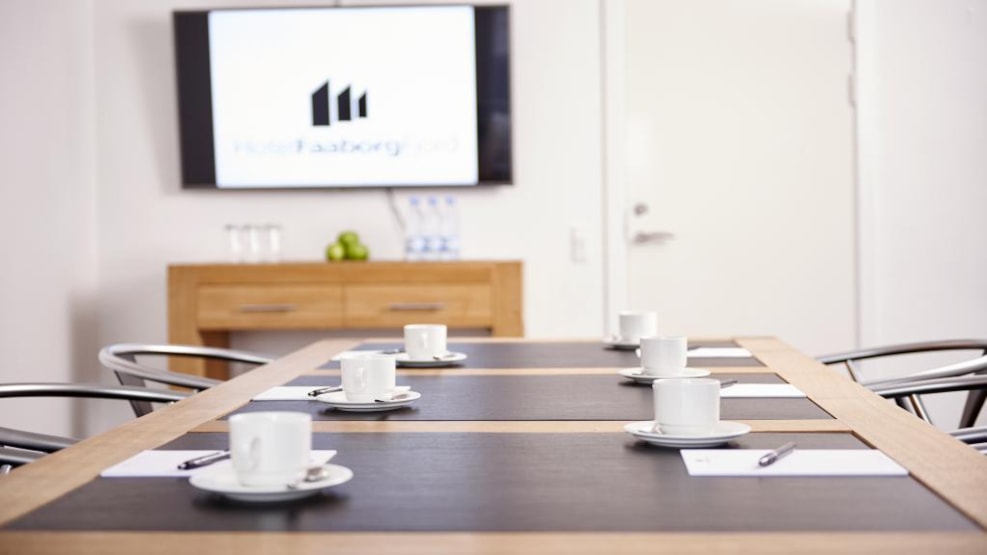 Green Experience
Hotel Faaborg Fjord
Meeting & conference
At Hotel Faaborg Fjord our creative team creates unique experiences for all types of conferences, events and meetings. We design unique experiences based on the individual group of guests and add an extra boost to the breaks throughout the day, as it increases the participants' ability and eagerness to learn as well as improves the overall experience significantly.
Seize the opportunity to change the environment during the day and take guests to the forest, the beach, the beach bar or you enjoy the coffee in the veteran train with pick-up at the hotel's own platform.
Imagine a cozy get-together at a variety of themed bars, eg. self-grilled s´mores, hot chocolate with all sorts of topping or self-created organic ice cream waffles with topping.
Create a unique experience for your guests in bathrobes and slippers and enjoy a few hours of relaxation in our Spa & Wellness with pampering for body and soul.
End the day in our atmospheric beach bar with cozy music, crafted beers, wine and delicious cocktails…. And maybe our 'Hangover Bar' would make sense the following morning.
We tailor your event with optimal use of our fantastic surroundings, where both catering and experiences are second to none. We make sure to keep schedules and logistics on track. Then you can concentrate on the more important things - your team.

The hotel's facilities are professional, newly renovated and optimized inside-out, and we provide technical assistance at every conference. The possibilities are endless, and together we will create a solid and memorable experience for your guests at Hotel Faaborg Fjord - Spa & Conference.
Contact our creative team today for your future meetings, courses and conferences. Contact us at info@hotelfaaborgfjord.dk or call 62611010 to hear more.
Meeting & conference
★★★★ according to the classification requirements
Free parking
4 Clever electric car charging stations
Meeting place classified
Max. theater seating (700)
Number of group rooms (7)
Number of meeting rooms (7)
Max. banquet seating (440)
Max. class seating (440)
126 Double rooms and 2 Suites, each with private balcony or terrace
Beds (256) Baby cots or extra guest bed is available upon request and payment
Chromecast TV in all rooms
modern AV and IT facilities, projector, wireless printing, secretariat
Green Key
Wireless internet (fiber network)
Spa & Wellness - additional payment
Fitness, Petanque, 12-hole Krolfbane
Private beach with jetty and beach bar
Possibility of borrowing bicycles
Locked bicycle garage
Restaurant, Bar & Lounge areas
Forest, Campfire & 2 Shelters
Geopark Det Sydfynske Øhav © 2023