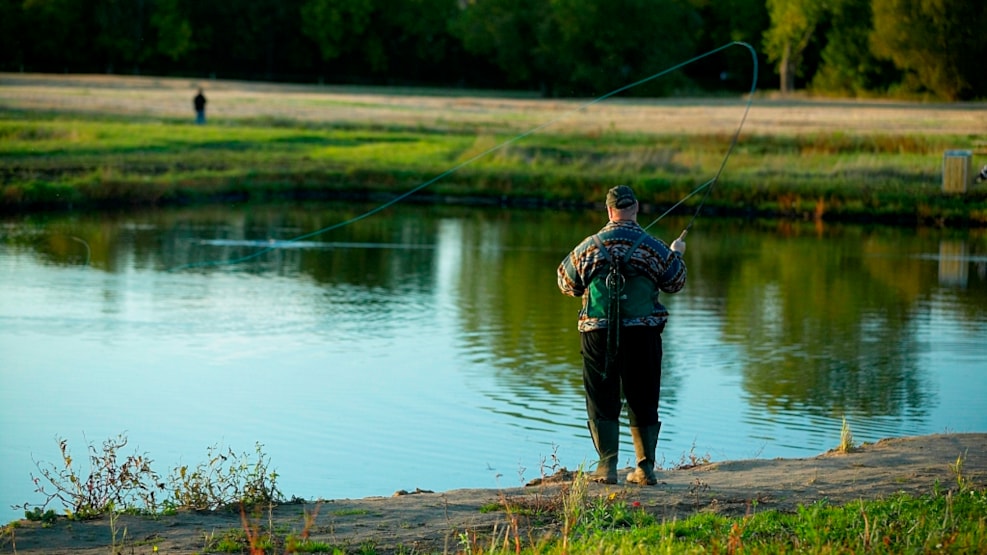 Højrupgaard Put&Take
Højrupgaard – cabins, camping, shelters, hay hotel, horse riding tours and "Put & Take" fishing lakes
Højrupgaard is an exceptionally cosy place with lots of space  – even for large groups of riders and horses. Overnight stays can be arranged in tents or caravans. The paddocks for the horses are close to the shelters. There's a lovely view from the cabins out across the four "Put & Take" fishing lakes – and you can rent rods to go fishing there. The farm itself is in Højrup, linked directly to the nature trail, which here consists of a 16-km stretch that was once a railway line but is now a walking/cycle path between Ringe and Korinth. It also connects up to the 75-km long www.riderutesydfyn.dk southern Fyn riding trail. There are also several opportunities for day rides close to Højrupgaard in the woods on the property and in the nature areas extending along the Silke- and Odense Å rivers, and in the Espe Statsskov forest. You can ride your own horse, or use one of Højrupgaards 14 friendly Iceland tour ponies (with guide). Rides lasting one hour or several hours are also available for both children and adults (max. 90 kg) – anyone can ride an Icelandic horse! You can also fulfil your riding dreams with a group trek lasting one or more days through the hilly countryside of southern Fyn, following the riding trail and staying overnight in the different Bed & Breakfast/hay hotels available close to the trail.
Spending the night at Højrupgaard
5 cosy 2-person cabins with dishes and cutlery, coffee maker and fridge.
Beds with duvets and pillows, but bring your own bed linen and towels.
You can prepare your own breakfast in the cabins.
Access to shared kitchen and barbecue and a 65-square metre campfire cabin, where as many as 10 hammocks can be slung, and there are bathrooms and showers.
Price per cabin/24 hours: DKK 400
3 large 5-person shelters with camp fire area: DKK 65 per person/24 hours
Wood for the camp fire is on sale
Hammocks in the campfire cabin available for a maximum of 10 people: DKK 100 per person/24 hours
Staying in your own tent that you bring with you: DKK 50 per person/24 hours
Staying in your own caravan: DKK 50 per person/24 hours, with electricity paid on a meter
Staying in your own camper vehicle: DKK 50 per person/24 hours, with electricity paid on a meter
Showers (extra): DKK 25
Price per horse in the paddock: DKK 50/24 hours
Trailer parking for the hay hotel: free of charge
Purchase of extra straw feed: by arrangement
Arrangements can be made to transport luggage and people back to a trailer on the trekking route.
Distances from Højrupgaard to destinations on the www.riderutesydfyn.dk
From Højrup - Korinth: 6 km
Højrupgaard and round Brændegård Sø lake, and back: 28 km
Højrupgaard - Holstenshuus (no. 7): 14 km
Højrupgaard - Stald Nyhave (over no. 8): 17 km
Højrupgaard - Faaborg Camping: 23 km
Højrupgaard - Askeris B&B (nos. 9–10 shortest route): 20 km
Højrup - Tidselkroggaard via Holstenshuus (no. 7, the short route in the Svanninge Bakker hills): 30 km
Helle and Lars Ilum
Højrupvej 45 (Horse riding tours)
Højrupvej 40 (Put & Take lakes and hay hotel)
5750 Ringe
Telephone (+45) 2561 5464
Email: info@hoejrupgaard.dk
Website: www.hoejrupgaard.dk
Geopark Det Sydfynske Øhav © 2023