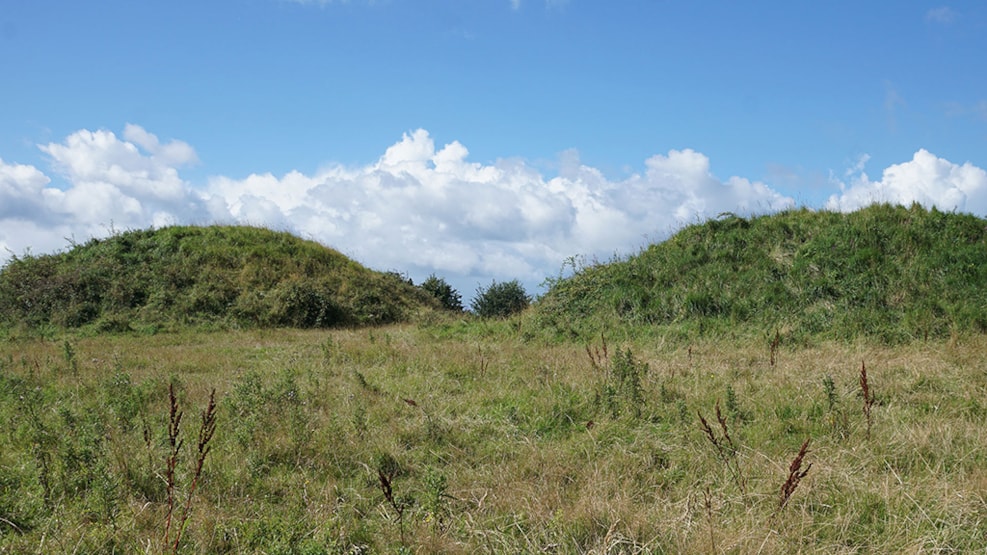 Gravehillocks at Tryggelev Nor
Two preserved Mounds. Originally there were five. They were placed to be seen from Tryggelev Nor where you could then sail in.
At Tryggelev Nor, only 500 meters from the Ormstrup barrow, is Langeland's only collection of large Bronze Age mounds. Originally, there have been five mounds in a curved row, but today only two and a half remain. The two southernmost have been completely eliminated, while the half has retained its southern part. In the parish description from 1876 one can read that the condition was the same even then.
Bronze Age mounds are usually found on ridges and the highest points of the landscape. They are clearly positioned to be as conspicuous as possible. It may seem as if the row here is an exception, it is completely out in a field where not many may have had an errand. It is not the case. The row of mounds is located to seem, monumental and impressive, when one came sailing in from the sea and into the Nor, as one could still in the Bronze Age.
(Source: "Fortidsminder på Langeland", Langelands Museum)
Geopark Det Sydfynske Øhav © 2023