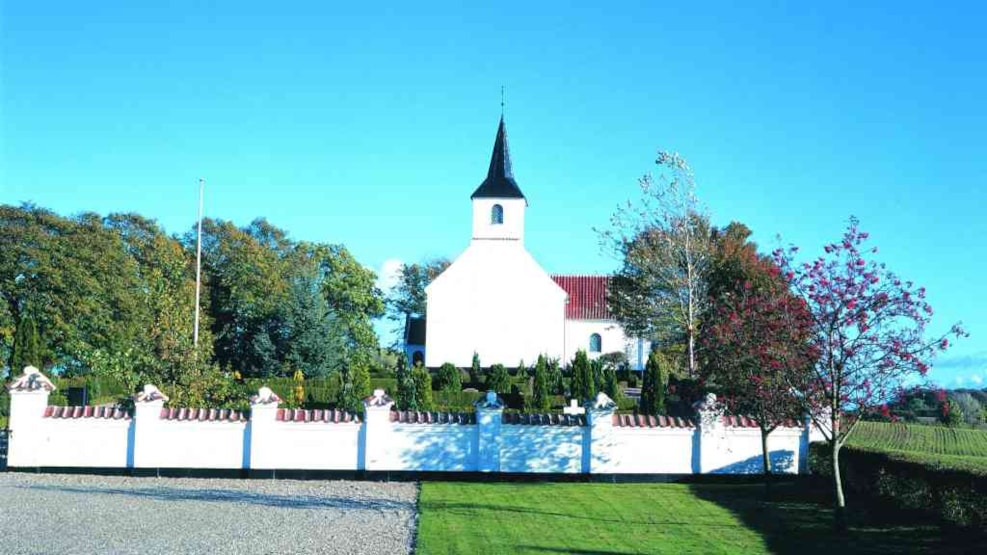 Fuglsbølle Church
The church lies on a low hill in the village of Fuglsbølle. It is one of the few churches on Langeland without a tower.
Originally the church was built in the medieval and features a Romanesque nave and a Gothic chancel. In the place of a tower the church features a ridge turret with a wooden-tiled spire. A tower was added to the church when it was extended in late-gothic period, but it was torn down again in the mid 19th century. In 1879 the entire exterior of the church was plastered with a layer of cement, which removed most of the original irregularities.
Decoration
The pulpit is arguably the church's finest feature. It dates from 1644 and shows scenes from the creation story and the 5 virtues. It also also bears King Christian IV's monogram. On the north wall of the church it is possible to find a memorial plaque bearing the names of the church's endowment founders. The votive ship that hangs in the nave is a copy of a model of the Frigate Jylland.  
Geopark Det Sydfynske Øhav © 2023