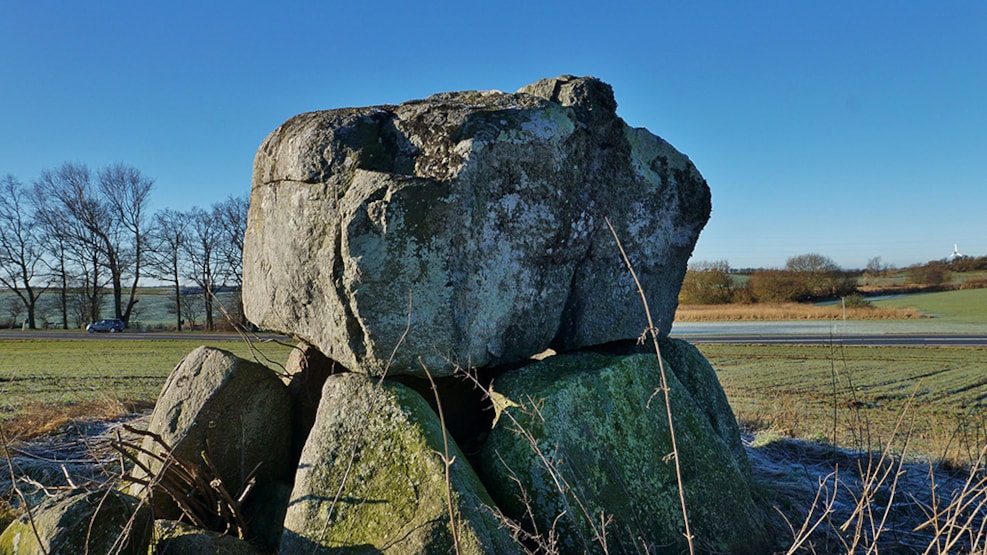 Dolem chamber in Herslev
The large capstones is in its original place.
500 meters further south on route 305, there is a free-standing dolmen chamber at Augløkkevej. In the report from 1876 we can read that the dolmen chamber is a remnant of a long mound oriented northeast-southwest with 3 chambers. Today, one chamber stands in the corner of a cultivated field, and with its location 100 meters from Langeland's main road between north and south, it is probably one of the most seen ancient monuments on the island. Like the two nearby nozzle chambers, you also have a view of Lindelse Nor from this dolmen chamber.
The shape of the dolmen is also immediately understandable to a viewer: With one large cover stone resting on 5 bearing stones, it resembles most people's notion of a dolmen. There is no remnant of the cleared long dolmen, nor any curbs. Neither mound nor chamber is excavated. The dolmen chamber was registered in 1924 through an agreement with farm owner Rasmus Hansen.
(Source: "Fortidsminder på Langeland", Langelands Museum)
Geopark Det Sydfynske Øhav © 2023