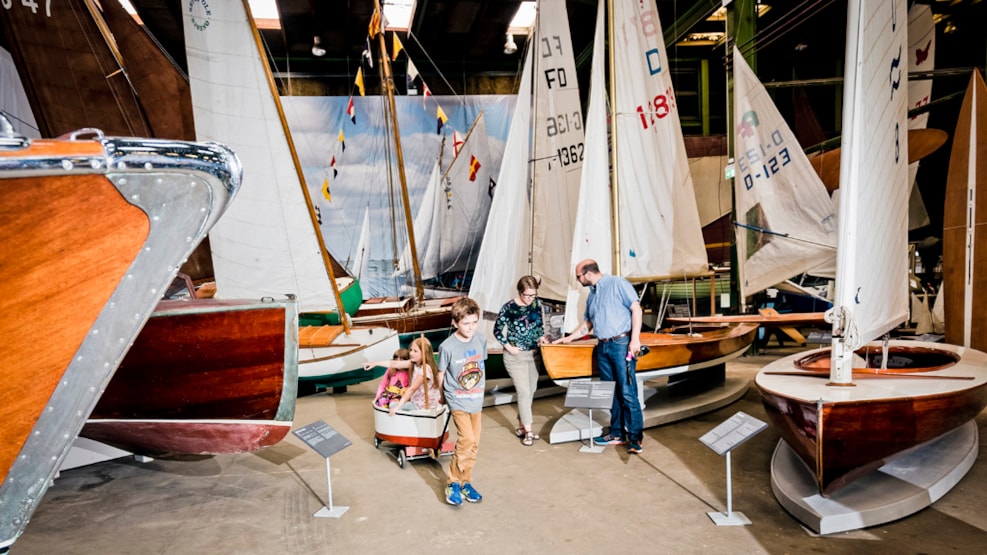 Danmarks Museum for Lystsejlads
 Museum about the History of Yachting
After more than 20 years at Valdemars Castle, the Danish Yachting Museum is now moved into a large exhibition hall on Frederiksø in Svendborg, celebrating its anniversary with a brand new and impressive exhibition.
- The large harbour-front hall in Svendborg presents us with amazing opportunities, Martin Stockholm, the museum director, explains.
- In this new hall we will be able to exhibit parts of our collection that have yet to be shown. Counting everything, the museum has over 130 vessels – everything from the tiniest dinghies and classic kayaks to historical boats, such as the starboat "Leise" that once carried the Olympic flame, and Denmark's smallest sharp-sterned boat, "Bette Ole", measuring only 4 metres. Furthermore, we have lots of interesting maritime items, including Paul Elvstrøm's stop-watch from when he first won the Olympics, and the world's first combined masthead light, which is in fact a Danish invention, Martin Stockholm says.
SPECIAL EXHIBITION from 12 May to 7 August 2022: Henry Rasmussen
Boat builder in the shadow of World War II In premises at the Danish Museum of Pleasure Sailing, Svendborg Museum shows the exhibition about Henry Rasmussen. Here you get close to the story of the world-famous boat builder and Svendborg resident Henry Rasmussen. In 1941 he took over Gl. Horse garden yard at Svendborgsund. The joy was great with both Henry and Svendborg. The city got a far-sighted and wealthy city kid back after establishing a world-renowned shipyard in Germany. Henry took over the yard that his family had more or less been forced away from in 1895. Not everything was joy and gloom. During the occupation, the shipyard worked for the German navy and therefore became an active sabotage target. The story of his time at Svendborgsund involves sabotage, seizures and accusations of conscription. The exhibition is based i.a. on the family's own records and tells the story of Rasmussen before, during and after the occupation. There is free admission. It is open at 11-17 on selected days.
See more at www.søfartsbyensvendborg.dk
Geopark Det Sydfynske Øhav © 2023