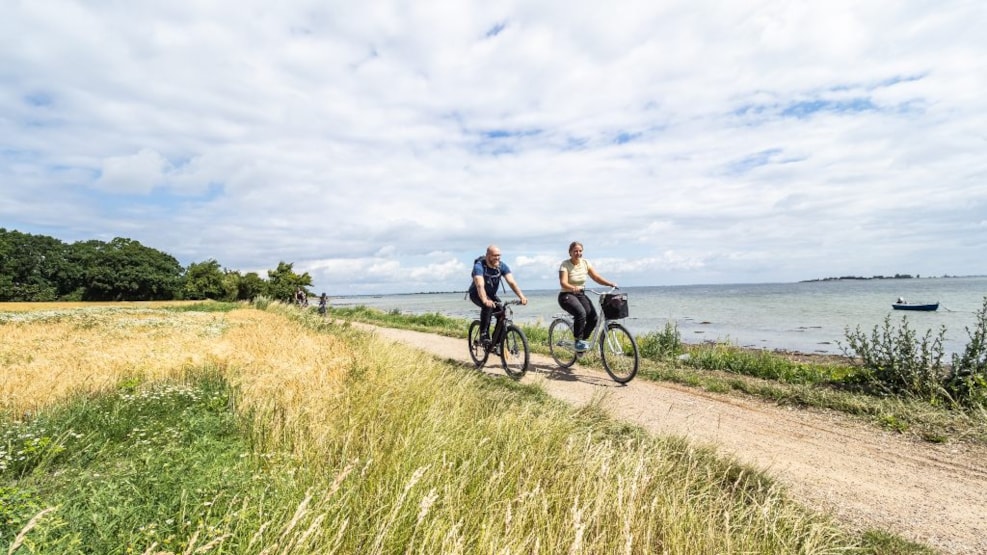 The Castle Route on Ærø
The Castle Route is a 660 km long signposted cycle route on Fyn, Langeland and Ærø. The stage on Ærø is the hortest one on the route with its 32 km, but what a stage!
Experiences along the Ærø stage
On Ærø you pass the route's only ducal residence, Søbygaard, that has has been turned into a museum.
The route continues south to Voderup Klint with a unique view of the Baltic Sea.
At Ærøskøbing, do not deceive yourself to hop off the bike and go for a walk along the iconic beach houses at Vesterstrand beach.
The route continues along the coast down to Marstal, where you can visit the Maritime Museum and see even more beach houses at the beach Eriks Hale.
Remember to stop along the way and buy some of the local specialties like beer, salt and licorice confectionery.
GPX-file and route on map
You can download the route as a GPX-fil for your navigation.
Luckily, the route has signs the entire way, so you can easily drive without aiding devices.
You can also see the route on a map on our Danish website.
Road conditions
The stretch between Søby and Ærøskøbing has some good climbs, while the stretch between Ærøskøbing and Marstal is quite flat.
Be aware that a big part of the route is a gravel path along the water.
Find more practical information
The Castle Route in brief
Fully 660 km of signposted cycling route, primarily on asphalt, divided into 14 stages. Ride the full distance or select a specific stage – you can decide for yourself where to start and in which direction to cycle. It couldn't be easier or more convenient!
The route has been named after the 123 castles and manor houses to be found on Fyn and the islands; if you ride the route, you are sure to see more than a few of them.
And don't worry, even though we are calling this "The Castle Route", you will naturally ride by a host of other sights and attractions, farm shops, accommodating B&Bs and breathtaking vantage points.
Geopark Det Sydfynske Øhav © 2023