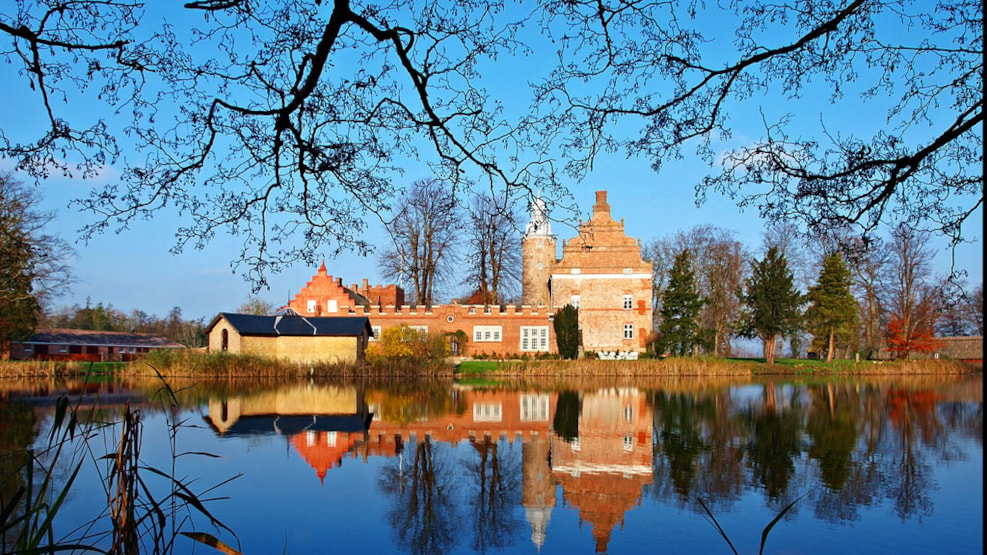 Broholm Slot
For anyone with just a minimum of historical flair or romantic-nostalgic Faible a visit or stay at Broholm a fascinating odyssey through almost 700 years of Denmark's history from Christopher, 2 to Margrethe the 2nd, with the intervening 29 kings and 1 queen as players or extras in Ulfeldt'ernes, Skeel'ernes and Sehested'ernes saga. Broholm is comfortable, with very cozy sitting rooms, which are all different and with their authenticity, unique, atmosphere.
As a guest you easy find your self at home.
Broholm is extremely idyllic with park, manor house lake, moats and watermill a stone's throw west of Svendborg, Nyborg Way (163) midway between Hesselager and Oure. Apart from Castle Lake lies the museum "Chamberlain NFB Sehested Prehistoric Collection" of 60,000 antiquities, which is now owned and operated by Svendborg & Environs Museum.
Historical guided tour of Broholm
Guided tour for groups by pre-booking.

Guided tour for groups up to 30 people: price DKK 1500,-
Guided tour for groups of more than 30 people: price DKK 2500,-

You can have coffee/tea and cake for DKK 108,- or other desired serving.

Contact us at +45 62 25 10 55 or order at bro@broholmslot.dk
Geopark Det Sydfynske Øhav © 2023