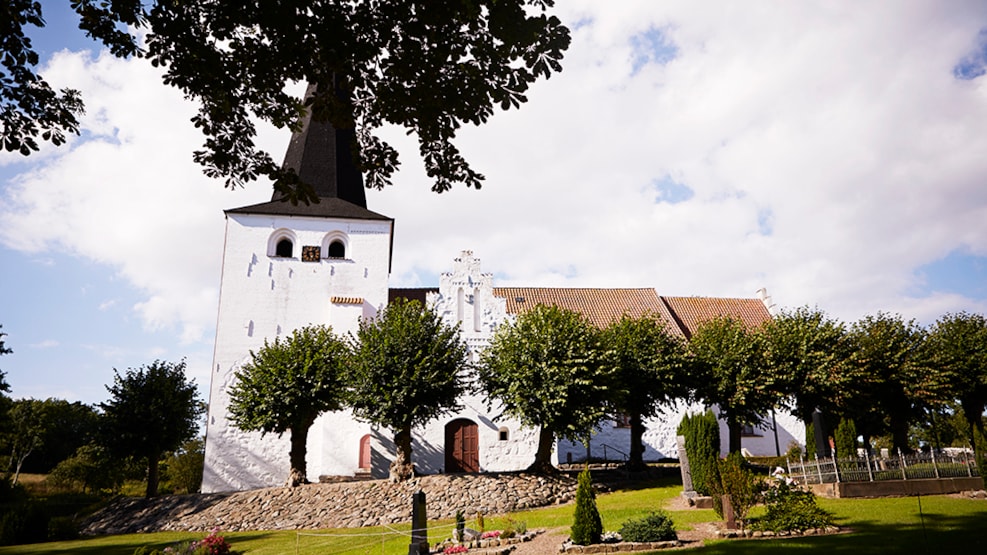 Bregninge Church
Bregninge Church is originally a Romanesque church from the 13th century with magnificent Gothic vaults, built in the late 15th century.
The tower's impressive spire (East Schleswig embossed) is covered with oak shavings. The frescoes from approx. 1510 to 1525 - i.a.
The story of Jesus' suffering and the life of John the Baptist - was uncovered 1915-22 and last restored in 1956 by Egmont Lind. Distinguished three-winged altarpiece from the time shortly before the Reformation, made by the famous woodcarving master Claus Berg (also master of the altarpiece in Odense Cathedral). Choral crucifix from the late Middle Ages. Pulpit in Renaissance style (1612).
The organ is from 1941, built by Marvussen and Son, Aabenraa. It has 14 voices with a total of 1026 pipes.
Glass mosaic in porch by Sven Havsteen-Mikkelsen, donated to the church by him. At the northern entrance to the cemetery, a cattle grate can still be seen.
All Ærø's churches (except Ommel) are open all year at 8.00-16.00, except when church acts take place. Every day during the school summer holidays (except when there are church services) there is a church host present at 11.00 - 15.00 with offer of free tour of the church.
Geopark Det Sydfynske Øhav © 2023