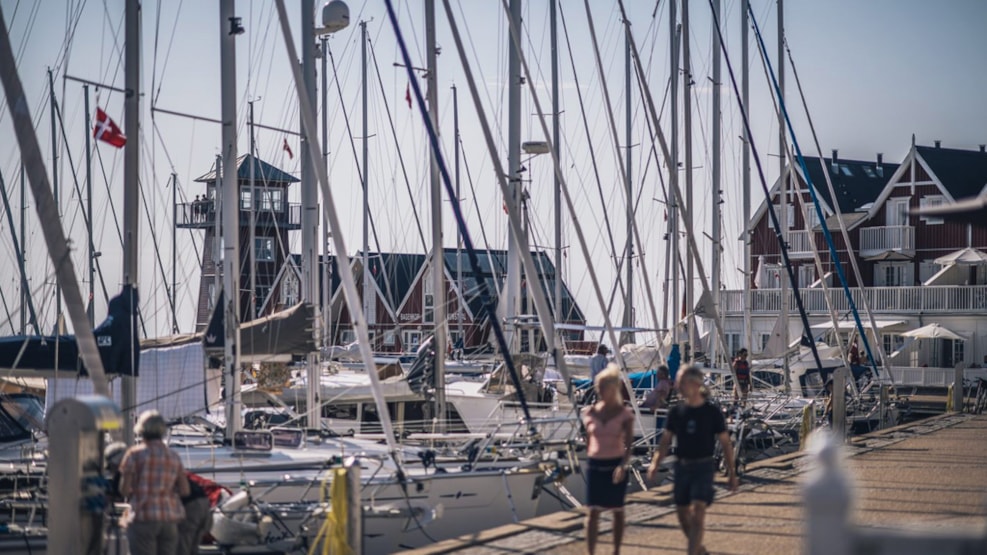 Bagenkop Harbour
Southern Denmarks biggest fishing port has a lively maritime atmosphere, charming fishermen's huts and modern harbour facilities for visiting sailors.
Annually Bagenkop harbour plays host to around 8,000 vessels, from small yachts to large schooners.
Every day during the month of June, local musicians serenade the sunset from the top of the harbour's lookout tower, on the harbour's norther jetty.
The Ferry to Germany
From 1965 to 2000 a ferry sailed from Bagenkop to Kiel. Today the former ferry-berth is used all year round for many different  water-based activities - from winter-bathing to kayaking.
Activities for Children
The harbour has a children's playground and young sailors can also go aboard Rasmus Klump's ship 'SS Mary', which even outfitted with a crab racing track!
The beach to the north of Bagenkop harbour has been awarded' Blue Flag' status, and is regularly used by surfers.
The harbour and the coastline to the south offer good for fishing  - suitable for both young and old.
Sightseeing around Bagenkop
In Bagenkop you can follow along the marked path 'Ildsljælesporet' and learn about the towns history. The Fishing Museum - Fiskeriets Hus - has a number of exciting exhibits that tell the story of the local fishing industry and its importance to the town.
Around 4km to the north you can visit the Cold War Museum at Langeland's Fort, while 5kms to the south east you can see the wild horses of Gilstav Mose.
Enjoy a bike tour - free of charge
The harbour fees at Bagenkop include bike hire. Within a few kilometres of the harbour you can visit some of Langeland's most popular attractions.
Shopping
In Bagenkop it is possible to buy groceries and fresh fish. During the summer a baker's shop is open next to the harbour.
Geopark Det Sydfynske Øhav © 2023