Art Tower 5 - Alfio Bonanno - Nature's Squatters
The internationally renown Land-Art artist Alfio Bonanno has let nature invade Art Tower No. 5 near Tullebølle. 
Art Tower No. 5: 
Artist: Alfio Bonanno  
Artists: "Nature's Squatters".
Nature has been allowed to move into the tower.
Created: 2018
NATURE'S SQUATTERS
In this Art Tower nature has moved in and taken over the building – it is "squatting" in the empty building, just as the groups of young people, known as squatters, illegally occupied empty properties in Copenhagen during the 1980's. The materials used in the artwork, hawthorn, willow and rowan were all found in the area around the tower. Additionally swallows have moved in and nested in the top of the tower. 
Alfio Bonanno
Alfio Bonanno is a pioneer within the field of Land-Art in Denmark, he is also the man resposible for the art park TICKON - Tranekær International Center for Art and Nature, where visiters can explore Land Art created by both Danish and Inernational artists.
Bonanno was born in Sicily and was raised in both Australia and Italy, but since 1975 he has made his home on Langeland. He is well known both at home and abroad for his work in the Land Art genre, and he has made a significant contribution to artistic life on Langeland.
Langeland's Art Towers - a unique way of experiencing art
Denmark's longest art exhibition can be experienced by visiting 12 former electrical transformer towers on Langeland. The art towers give visitors an artistic experience in the heart of the Langeland countryside.
From North to South and East to West, you can explore the cultural landscape and enjoy art in rural peace and quiet.
The towers are open all year round. A tour around them all will always offer a new experience, influenced by both the season and weather. 

You can read more about the  12 art towers at https://www.govisitlangeland.com/langeland/discover/art-towers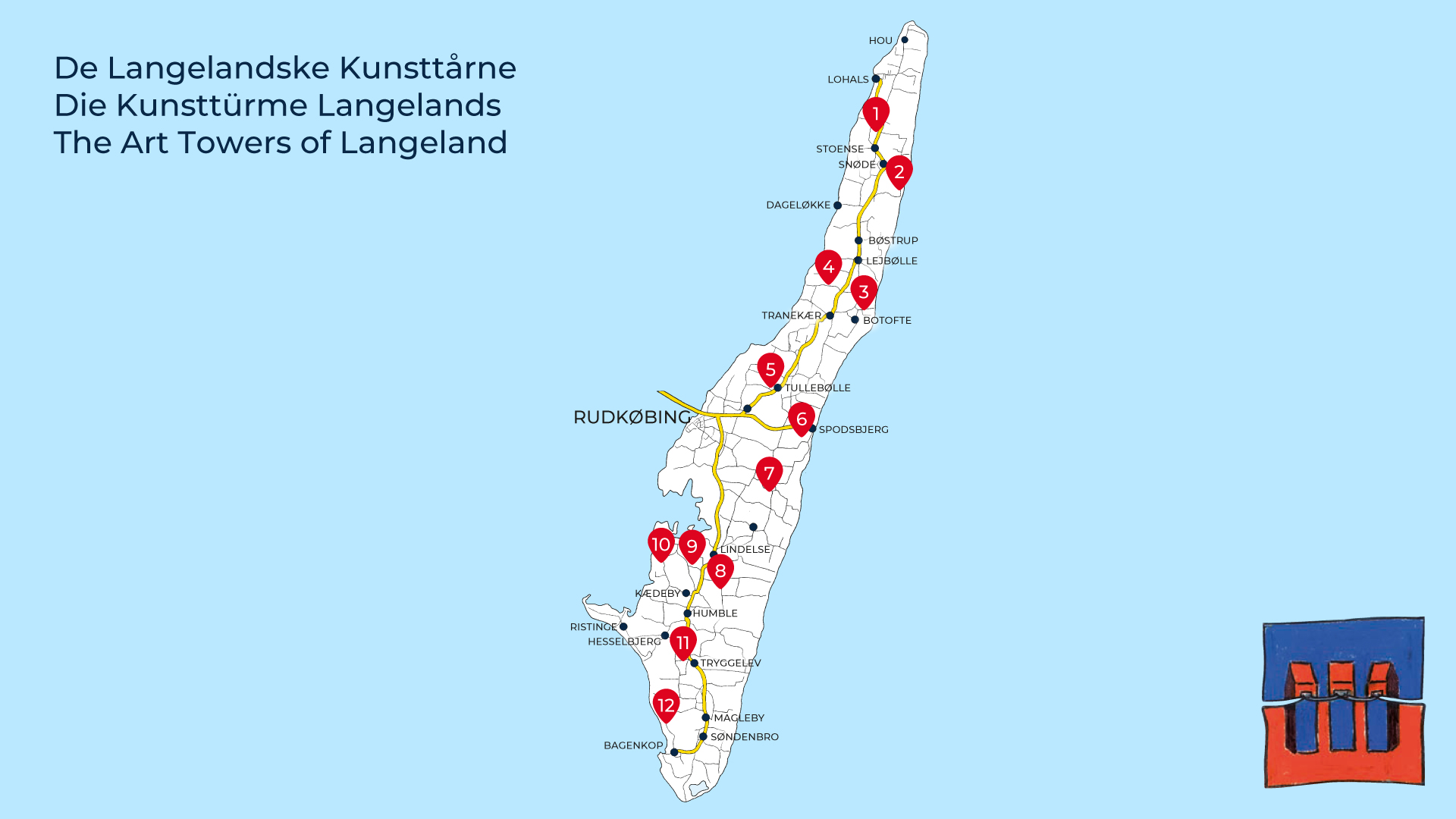 Geopark Det Sydfynske Øhav © 2023