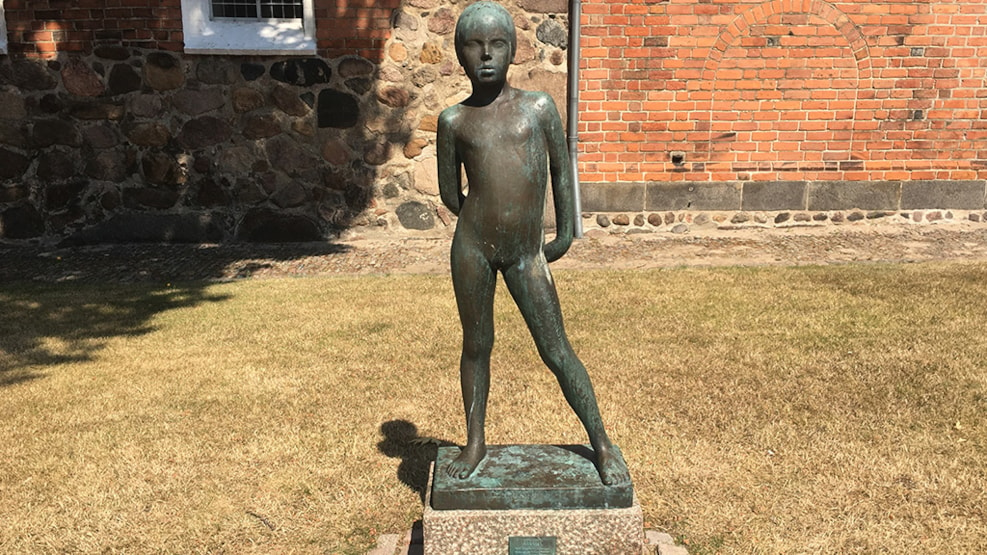 Annette, Keld Moseholm
A naturalistic bronze statue by Keld Moseholm - one of Denmark's most prolific contemporary artists.
Annette
Artist: Keld Moseholm
Erected: 1980
Naturalistic bronze statue
On the grass lawn next to Rudkøbing Church stands a small, naturalistic bronze statue of a young girl. She looks straight ahead, brave and fearless, with one hip tilted to the side. Her hands are held behind her back, creating an angular shape and providing a counterbalance to the angle of her hips. This creates a slightly unusual composition giving the figure a dynamic sense of movement.  The sculpture is brimming with vitality, and the girl is full of life and self-confidence. You can almost imagine that, in a moment, she will leap off across the lawn lsearching for adventure.
The statue was created by the sculptor Keld Moseholm (b. 1936), who is one of Denmark's most productive living artists.
Keld Moseholm was himself a keen gymnast and a former pupil at Ollerup Gymnastic High School. In the period around 1980 he produced a number of works based on the theme of gymnastics - focusing on movement, dynamics and power. Although the girl portrayed here is not in the act of performing a gymnastic exercise, this work clearly belongs to this period given the body's pose and radiance.
Keld Moseholm
Keld Moseholm graduated from the Funen Academy of Art in 1962 and the Copenhagen Academy of Art's School of Sculpture in 1970.
He is often described as Funen's greatest living sculptor and his works can be seen in towns all over the island. Over his career he has created many art works that now are displayed in public areas - both in Denmark and abroad - and has been active from around 1970 until today.
At the start of Moseholm's career his sculptures were naturalistic, and he often used his family and friends as models. Here he used his daughter Annette as the models for his sculpture, other examples of which can be seen in locations including Copenhagen's Bagsværd district. From the start on the 1980s onwards small, fat figures began to appear in his works, these have now become Moseholm's signature creation - and are known and loved by many.
Geopark Det Sydfynske Øhav © 2023