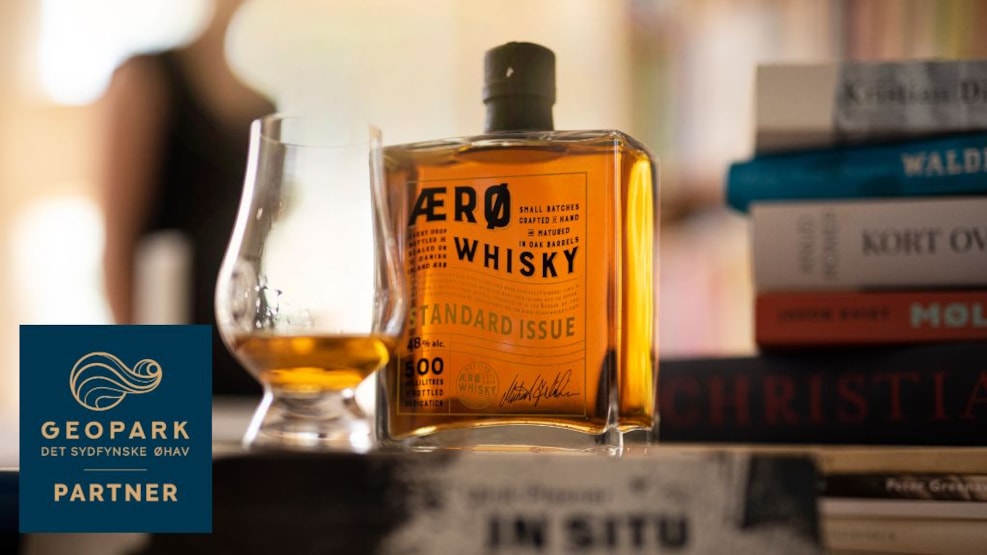 Ærø Whisky
Ærø Whiskey is a micro-distillery located on Ærø in the South Funen archipelago.
Aeroe Whisky is housed in the old wash house in the yard behind The old merchantscourt. Here is avisitor center, which is open during 'Købmandsgårdens' hours.
During the high season there are guided tours of the distillery.
The GRAIN used in Aeroe whisky is barley. Any kind of grain can be used for whisky , e.g. the United States is known for its Bourbon whiskey, made primarily from corn. Rye whiskey is made from rye, and for Single Malt you use barley.
In a good year the grain harvest on Aer oe yields 25,000 tons. Of this, we use a modest 3-10 tonnes in our production. 
Our product traceability is something unique to us. W e can tag the bottle with the exact origin of the grain. This i s highly uncommon, and only doable with a very modest production. For example, the 2013/2015 harvest from Dunkærgaard is included in our production. This farm has a tradition of malt barley production. The 2014 harvest was primarily from Tanges Eco-field on Tværbymark.
Aeroe Whisky currently uses the malt houses of Refsvindinge and Kølsters organic maltery, and our local brewery, Aeroe Brewery (Rise Bryggeri) has supplied the wort for our first distillation here in the old washing house.
The WOOD used for whisky storage is always oak. The oak is generally 100 years old before it reaches a size which makes it useful for the construction of the fade .
Aeroe Whisky's production has in the first years been with a mixture of new Hungarian oak, new American oak, old sherry casks and finally our own Aeroe oak. We use casks of 64/128 litres.
Partner with Geopark The South Fyn Archipelago
Geopark Det Sydfynske Øhav © 2023