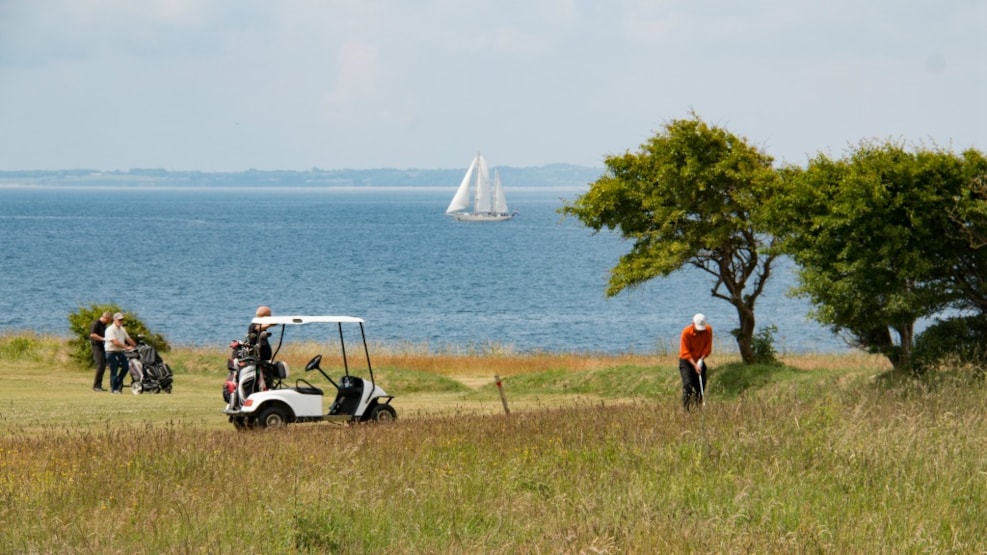 Ærø Golf Club
Give yourself a unique golf experience on one of Denmark's most beautiful golf courses
Ærø's golf course is one of the most beautiful seaside courses in Europe
The golf course has a completely unique location by Skjoldnæs Lighthouse, surrounded by sea on three sides.
There are sea views from all the greens, and the course is thus the only one of its kind in Denmark. A seaside course that you otherwise have to go to Scotland or Ireland to experience.
The view is unique, and one often has to stop and just take it all in.
Watch live stream from the beautiful course
Leaves you breathless
Especially in the summer, there are a myriad of sailing ships in the Baltic Sea and the South Funen Archipelago, which leaves many golfers breathless. The ships are often so close to the course that you can hear the talk on board if the wind is calm.
A round on the court is a very special experience, which you should treat yourself to, and many guest players return again and again.
The 18 holes
The first 9 holes are situated on the south side of Ærø, and the last 9 holes behind Skjoldnæs Lighthouse on the northern tip of the island.
The challenges are many - both going out and back, and especially when it is windy. You must also beware of the many protected dikes, but the course is manageable to play for most golfers.
The joy of playing golf on Ærø already starts on the beautiful trip to Skjoldnæs Fy, which stands as a significant landmark for the golf course.
Treat yourself to a visit - if nothing else, then at least to enjoy the view.
The course is open every day from sunrise to sunset.
Ærø Golf Club
The course is often visited by Ærø Golf Club's many members and the club's green keeper, Casper, looks after and cares for the course all year round.
The golf club has a clubhouse in the charming old lighthouse keeper's residence.
Geopark Det Sydfynske Øhav © 2023